Conference Experiential Learning

Conference Experiential Learning
10.12.2021 ,08:00

-

12.12.2021 ,17:00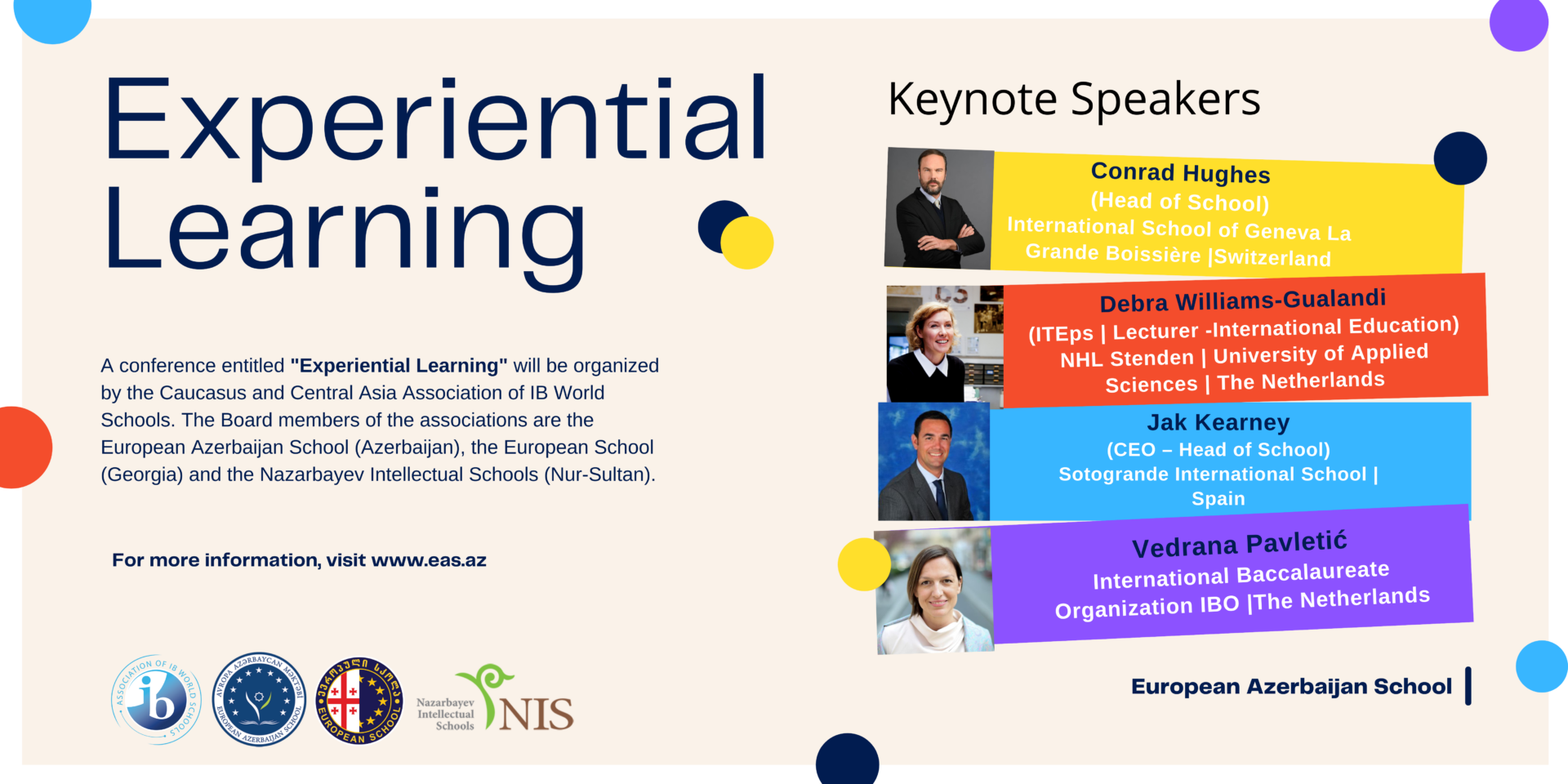 A conference entitled "Experiential Learning" will be organized by the Caucasus and Central Asia Association of IB World Schools. The Board members of the associations are the European Azerbaijan School (Azerbaijan), the European School (Georgia) and the Nazarbayev Intellectual Schools (Nur-Sultan).
The European Azerbaijan School will host the conference as it has been selected as the centre of the Caucasus and Central Asia IB schools, and the event will take place on the secondary campus located in Badamdar.
At this conference, which will take place on December 10,11, 12 you will gain knowledge and experience from international and local specialists who will share their experiences. A certificate will be provided at the end of the course to all the participants.
The conference will last 3 days (December 10, 11, 12).
On December 10 will be the day of the presentation of the association, keynote speakers and social event (17.00-21.00).
On December 11 and 12, the conference will last from 08.30 to 17.00.
08.30 – 09.00 – Coffee Break
12.30 -13.30 – Lunch
15.00 – 15.30 – Coffee Break
At the end of the event, participants will be provided with certificates and gifts.
The fee for participation in the conference is 75 AZN (price includes lunch and two times coffee break, in addition to the certificate).
Special discount for the guests of the Point Hotel.
To participate in the event, click the button below:
Please contact the European Azerbaijan School to pay for the conference.
You can follow the news about the event on our Social Media accounts:
If you have questions concerning the payments please call:
+994 50 290 77 52
Board Members of the Caucasus and Central Asia Association of IB World Schools
Francesco Banchini
CEO & Director European Azerbaijan School

Sophio Bazadze
Director European School Tbilisi
Sophio Bazadze

Sabyrzhan Saduakassov
Director Nazarbayev Intellectual Schools in nur-Sultan
Venue