The European Azerbaijan School is a private school authorized by the Ministry of Education of the Republic of Azerbaijan.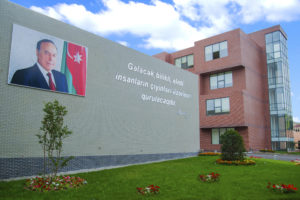 The school offers the following programmes: The International Baccalaureate (IB) Primary Years Programme (PYP) authorized in 2017 the IB Diploma Programme (DP) authorized in 2015 and the Middle Years Programme (MYP) authorized in 2021 and became IB World School. The European Azerbaijan School has earned the prestigious Council of International School (CIS) accreditation that is a testament to our commitment in providing high-quality international education. The school has grown from the original 95 students in 2012 to the current number of 1696 students. Student moving from the Primary Years Programme into the Middle Years, Diploma Programme and Career-related Programme to develop the necessary understanding and skills such as respect, innovation, creativity, intercultural understanding and critical thinking.
Our curriculum is driven by our unique approach, which ensures that every student becomes a high achiever. As an international school, we also strive to nurture students who understand and respect different cultures. The European Azerbaijan School promotes the vision of bringing all of the stakeholders together through a network of communication and collaboration, making our school an open space where discussions, tolerance and open-mindedness take place.
The European Azerbaijan School operates on two campuses; the facility in Yasamal has both the Early Years and Primary programmes, while the facility in Badamdar accommodates our grade Middle Years, Diploma Programme and Career-related Programme.