The European Azerbaijan School has a fully equipped medical clinic staff by two (2) fully trained and qualified doctors.
Each year the medical staff check all students at the EAS and report their findings to the students' parents along with any observations and recommendations.
The medical staff regularly check hygiene standards within the school and work with the Cafetaria staff regarding menus to ensuring that meals are nutritious and balanced.
The doctors also teach specific health lessons to students regarding topics such as healthy eating and nutrition, dental care and correct posture.
Notes:
If your child requires medication to be administered during the school day, please talk to the medical staff. Teachers are not empowered to administer or to supervise the administering of medication to students.

All staff members at the EAS take a medical examination each year.
The EAS medical staff:
Farida Alakbarova – Farida.Alakbarova@eas.az
Matanat Shahbadinova –  Matanat.Shahbadinova@eas.az
Medical Guidelines
EAS STUDENTS ILLNESS AND INJURY GUIDELINES FOR PARENTS
In order to provide a healthy school environment for all children and staff, the following guidelines have been prepared.
If your child is not feeling well and you are uncertain about sending him/her to school on any given day, it is best to keep your child home and observe him/her for worsening symptoms. If a child is too ill to attend school in the morning, it is recommended that he/she stay at home all day.
If a parent decides to keep a child at home, please notify the school secretary that the student will be absent and state the nature of the illness.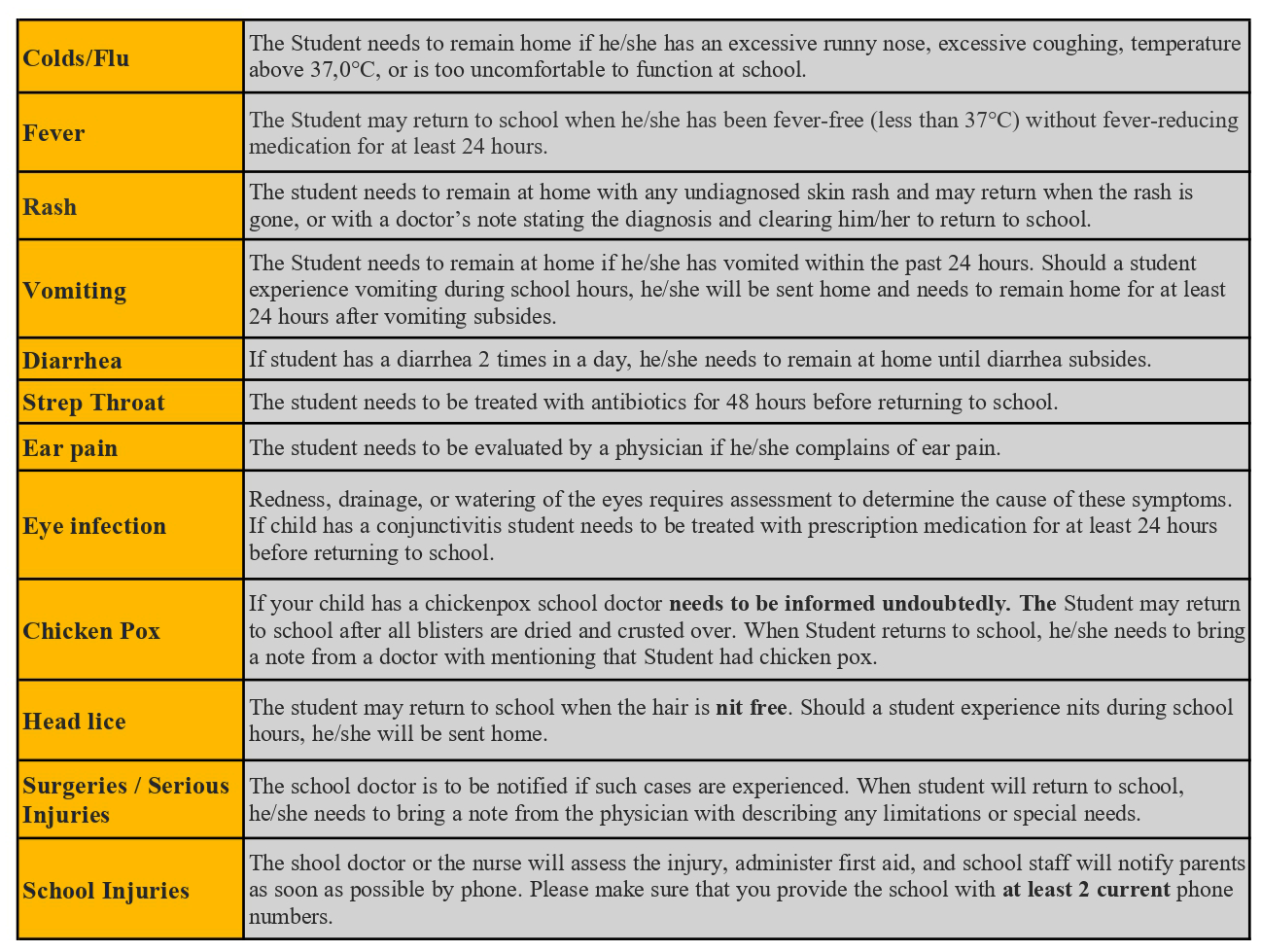 For children to take medicine at school, parents or guardians must bring it into school (medicine should not be given to the student to carry in hands). All medication must be labelled with the child's name, last name, and grade and with written instructions for administration. Please hand it directly to the teacher or school doctor. If the medicine is to come home at night, please come into school to pick it up from the teacher. This procedure is to be followed for the safety of all children. If these procedures are not followed, the medicine will not be given to the child. Guardians of bussed students may give medicine to the bus assistant.
Thank you for your cooperation in this matter.
Please remember that during school, children are in close contact with each other. If children are kept home when the first signs of illness appear, it helps prevent the spread of that illness to other children. Your child will recover more quickly if he/she gets plenty of rest and proper care early in the illness.
HEALTHY CHILDREN ARE BETTER PREPARED TO LEARN IN SCHOOL & SUCCEED IN LIFE!